When choosing health insurance for your dog, it can be tempting to simply opt for the cheapest coverage, however, there are several different kinds of policies available. Failure to understand exactly what is covered can lead to an unpleasant surprise if your dog falls ill and the insurer won't pay the expenses.
Lifetime Coverage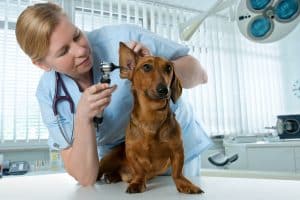 A lifetime policy will usually include the most comprehensive cover. The premiums may be slightly higher than for other kinds of policies, but they have the added benefit of covering long term medical care for lifelong illness. Purchasing the policy for a healthy puppy and renewing each year will be much cheaper than applying for insurance after your dog has developed a serious health condition.
There are variations in what lifetime policies cover, so be sure to check the terms and conditions carefully. For example, some policies will have an upper threshold for annual payments, but the threshold is applied to each eligible health condition. Other insurers will place the limit on the total payouts made for your dog's medical treatment in a twelve month period.
Non-Lifetime Coverage
If you cannot afford the monthly premium payments for a lifetime policy, opt for this instead. With this type of insurance, it will pay a set amount towards a medical condition. Once this limit has been exceeded, the insurer is not liable to pay any further medical costs for the duration of your pet's life.
Cheaper still is coverage that also imposes a time limit. For example, if your dog develops a lifelong medical condition, your insurer will pay the bills for the first twelve months, up to a set limit. Although this type of policy can help a pet owner to save money on premiums, it offers significantly less in benefits should they need to make a claim.
Accident Only Policies
Another type of policy you may come across is "accident only" insurance. If your dog does have an accident, this policy can prove a very worthwhile investment. However, it is worth pointing out that over three quarters of pet insurance claims are for illnesses, not accidents. Therefore, it is highly recommended that you consider an alternative policy which covers for both eventualities.
What If My Dog Has A Pre-Existing Condition?
Insurers will not cover a medical condition which existed before the policy application was made. This means that if you wish to switch your insurance provider after your dog falls ill, a new insurance company will exclude pre-existing illnesses and lifelong health conditions from the coverage. In other words, you won't be able to switch providers because your dog will not be able to get a policy
Health insurance for dogs has many benefits if your pet requires veterinary treatment. However, the coverage can vary greatly between policies and cheaper insurance may prove to be a false economy in the long term.